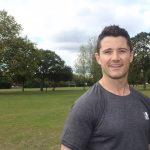 ABOUT ALEX
Hello and thanks for visiting my website!
I started Personal Training on Wandsworth Common in 2012 and since then I have worked with a large number of clients of all ages and fitness levels.
My initial goal was to bring a fresh look to outdoor personal training on Wandsworth common for people who preferred to exercise in fresh air rather than inside a gym. Traditionally Personal trainers who work outdoors tend to use very little equipment and for me that means that clients do not experience all the possible benefits and variety in a workout. So I created an outdoor space where my clients can use equipment like kettlebells, dumbbells, Bosu ball, Resistance bands, boxing gear, VIPR, agility ladder and more!
For those that prefer the gym environment I also have access to a state of the art gym facility in Wandsworth where you can train with me.
I also travel within London to clients homes to do private home training.

CARDIO FITNESS
Improve cardiovascular fitness and heart function.

AGILITY
Improve Speed, Balance, Coordination and Footwork.

STRENGTH
Improve Strength and Power through dynamic lifting and resistance training.

BODY MECHANICS
Master your own bodyweight and movement.

BOXING
Learn to box for both fitness and self-defence.

MUSCLE BUILDING
Improve lean muscle mass and tone all key muscle groups.
Book a Session Today!